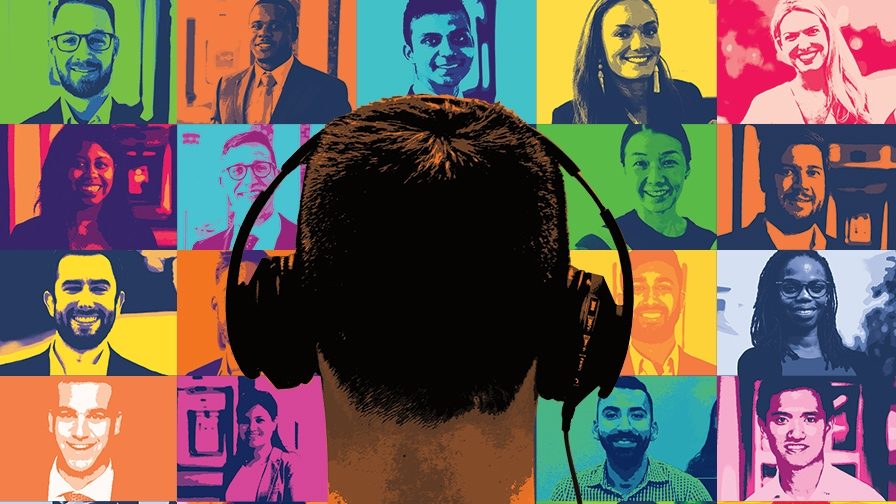 A Look Back at UVA Darden's Quick Shift to Distance Learning and Lessons Learned for Fall
By Dave Hendrick
The successful launch of distance learning across University of Virginia Darden School of Business degree programs in early spring was born of many factors.
It took a willingness among School leadership to remain flexible and open to quick change, as the threat of the coronavirus to day-to-day life at the University shifted from remote to clear and urgent in a matter of days, changing planning scenarios by the hour at times.
It took careful levels of coordination among the instructional design and classroom support teams, which successfully launched virtual delivery of all full-time MBA, Executive MBA and Master of Science in business analytics courses with almost no notice.
It took a deep reservoir of mutual goodwill among faculty and students, each trusting that the carefully coordinated case method in the Darden classroom could be, if not replicated, at least temporarily approximated virtually via technology.
It took Darden being uniquely Darden.
While Darden plans to open as scheduled in August with students and faculty on Grounds, a look back at the events of a spring like no other demonstrated an ability to react quickly and work together toward the common good in the face of great uncertainty.
The First Step: Planning for the Unknown
Assistant Dean for Digital and Instructional Initiatives Joanne Meier said the biggest challenge in early March, as the pandemic began to explode across the country, was planning for the unknown.
Asked to map out a continuity of instruction plan, Meier and her team began to plan for various scenarios, including one that for a time seemed like the likeliest outcome, which envisioned no students returning to the physical classroom but faculty leading cases from technologically enhanced virtual classrooms. Faculty would stand facing the "pit," with specialized writing panels and projectors aiding the instruction. Over the course of a few long days in early March, the classroom support team fitted five classrooms for full-scale virtual instruction, which along with the four studios on Darden Grounds, would have allowed for nine simultaneous instruction locations at a time.
Then, just days before the nine studios were to be put into use, new guidance from UVA came down: except for those who carry out key functions, all staff and employees should work from home.
When Meier reached out to School and degree-program leadership to say she believed total virtual instruction from home was the right course of action, the response she received was one of total support. She was told, "Absolutely. What do you need? Let's go."
Meier and Manager of Distance Learning Jarrod Tibbs sprung into action, and the distance learning and classroom support teams began preparing faculty to deliver classes from home. The high-tech virtual classrooms were replaced with laptops, dual monitors and iPads. A dedicated support staffer partnered with each faculty member for the duration of the fourth quarter to ensure all systems were set. It was an on-the-fly adjustment, but one that ultimately succeeded.
The experience of the spring and planning for multiple scenarios will now be put to use in fall, when Darden welcomes students back to Grounds while offering virtual elements for those who may not be able to attend in person.
"Dean Beardsley has always, always said that Darden has the best teaching faculty, and that one of his goals is to have the best online teaching faculty," said Meier. "The ingredients that we have are definitely what it takes to get there, because the faculty and staff are so motivated, so committed, so willing, so passionate and so enthusiastic. It's been heartwarming, honestly."
Preparing the World's Top-Ranked Teaching Faculty for a New Classroom
For Senior Associate Dean for the Full-Time MBA Program Tom Steenburgh, the most pressing challenge was to ensure his faculty peers ⁠— whose distance learning experience ran the gamut from expert (the Executive MBA program has long used distance learning to deliver a portion of the content) to novice ⁠— felt sufficiently comfortable in their new roles.
"They had to completely shift modes of teaching, and we had to let them know that they'd have the support to do that," Steenburgh said. "A lot of it was emotional more than anything else. How do you let people absorb that blow and then get them to a place where, in a short period of time, they feel like they can be effective in what they love to do?"
At the faculty meeting for those teaching in the fourth quarter, Steenburgh said he asked the group what they were worried about, and encouraged them to air their concerns and hesitation.
Allowing the space to talk through scenarios and vocalize concerns helped shift the hesitant to a place of comfort, and professors in academic areas began to band together to share best practices, Steenburgh said.
The faculty exceeded their own initial expectations, turning the virtual environment into a robust learning environment, establishing norms and expectations to ensure active participation, and making accommodation for students previously unable to enroll in particularly popular classes.
Examples of innovation abounded. Finance Professor Michael Schill's "Financial Trading" course had long had a fast-paced trading simulation at its core, with students trading securities with each other and automated traders in a market where prices and order flow are fluctuating by the second. In a typical class, students would be clustered together in a classroom working off a server.
A group of students helped Schill test the simulation in the virtual world before the start of the class, and the successful trial rolled into the full class. Schill found that the simulation worked "beautifully" in the new environment, even with students trading from all over the world.
Other professors found avenues to connect outside of class. Shane Dikolli offered a "last lecture" to the Section A class that arrived at Darden the same time he did, and the experience led to other opportunities to connect at the height of the shutdown, with Dikolli and groups of students getting together virtually to bake meat pies and experiment with three-ingredient cocktails. It was all "tremendous fun," Dikolli reported, and a unique opportunity to offer a bit of cohesion at a time of disruption.
"For me, the thing that made me feel so great about being at this school right now is that, if there's a challenge like this, you know you can count on people to pitch in," said Steenburgh. "That's why you see the goodwill out of the students — they know we're killing ourselves for them, and so they'll do their part. They'll do the same for us."
A Look Inside Distance Learning, Where Cold Calls and the Case Method Still Thrive
Professor Mary Margaret Frank, the prospect of moving two radically different courses to the virtual environment in a matter of days was a substantial lift.
Frank, who as of 1 July also serves as senior associate dean for faculty development, taught a 50-person class on impact investing and a much smaller course on the taxation of mergers and acquisitions, had limited experience in the virtual realm beyond a few Executive Education programs recorded in a studio. The taxation course often involves students working together from a large board with complex equations, and sharing via an iPad seemed out of the question.
Still, when told that classes were all moving to the virtual realm, Frank said she didn't ponder what ifs or why nots.
"We're all in this together and we're going to make the best of it," Frank recalled thinking.
And the class did just that, with students in the taxation course often serving as "drivers" of the board work shared from their own screens.
"The students prepared, because they know they could get cold called to be the driver," Frank said.
In the impact investing course, in addition to cold-calling, Frank said she prompted classroom participation by requiring rotating groups of students to post takeaways from the day, assigning short writing tasks to be analyzed by students' peers in the class, making increased use of virtual breakout sessions and hosting virtual lunches one day a week where students with a particular interest in impact investing explored the topic further.
Both courses were Second Year classes, and Frank said she knew students were dealing with a raft of emotions, missing their friends, and potentially worrying about jobs and their health and the health of their friends and family.
"Resilience means you do the job you're assigned the best you can," Frank said. "I can acknowledge that this is different but show by my actions and teaching the course that we move through this like we normally do. And when it doesn't work, we're going to pivot. My mantra is we move forward."
Frank also saw new levels of collaboration in the Accounting department among her peers. Professors Paul Simko and Dikolli, who have both taught courses in the Executive MBA with a virtual component, held special training for their peers who were teaching in the fourth quarter, with the department colleagues taking turns role-playing classrooms scenarios and taking turns as students.
"I think we bonded more over those teaching sessions than we have in a long time," said Frank.
"We were all in there together, whether we were actually teaching or not, trying to help each other move along. It just made me so happy to be at Darden."
The View From the Students' Side of 'Darden at a Distance'
Darden Student Association President Megan Bailey (Class of 2021) was in Costa Rica over spring break with six friends from Darden when she began to read about things changing rapidly in the United States. When she and her classmates came back, the world seemed dramatically different.
"It was a pretty big shock, coming from being with six classmates, 24 hours a day for 10 days to coming back to social isolation in Charlottesville," Bailey said. "We were coming back to our apartments and not seeing anyone anymore. That was a really sad time for a lot of people."
While Bailey said she and her classmates were nervous about how the Darden classroom would translate to the virtual environment, the DSA president called it a true positive at an otherwise uncertain moment.
For First Year students like Bailey, the fourth-quarter classes represented the first step out of the Darden core, and elective classes are filled with students sometimes meeting each other for the first time. On the first day of Professor Justin Hopkins' "Financial Reporting" class, Bailey said Hopkins encouraged everyone to move to Zoom breakout rooms and share their thoughts and feelings with a small group.
"He said, 'Hey, I know you're going through a lot right now, and you all probably have a lot of feelings, so I'm going to send you into breakout rooms on Zoom so you can just talk with your classmates and get to know each other,'" said Bailey "That was really, really helpful. It was a really nice way to get to know those people I hadn't been in a section with."
Bailey said professors brings their own spins to virtual learning, mimicking the diversity of methods in the in-person classroom. For instance, Professor Peter Belmi's high-energy approach in his popular "Paths to Power" course has students excited to be up and online at 8 a.m., she said.
As part of her role as new president of the DSA, Bailey said she's been trying to reach out to every student in the Class of 2021, checking in on how everyone is faring during the pandemic.
"Overwhelmingly, most Darden students feel really thankful to be in the position we're in right now, being at an amazing institution and generally being very healthy," Bailey said. "People see how everyone at Darden is making such an effort to make this the best experience possible, and I think people really appreciate that."
About the University of Virginia Darden School of Business
The University of Virginia Darden School of Business prepares responsible global leaders through unparalleled transformational learning experiences. Darden's graduate degree programs (MBA, MSBA and Ph.D.) and Executive Education & Lifelong Learning programs offered by the Darden School Foundation set the stage for a lifetime of career advancement and impact. Darden's top-ranked faculty, renowned for teaching excellence, inspires and shapes modern business leadership worldwide through research, thought leadership and business publishing. Darden has Grounds in Charlottesville, Virginia, and the Washington, D.C., area and a global community that includes 18,000 alumni in 90 countries. Darden was established in 1955 at the University of Virginia, a top public university founded by Thomas Jefferson in 1819 in Charlottesville, Virginia.
Press Contact
David Hendrick
Associate Director, Editorial & Media Relations
Darden School of Business
University of Virginia
Hendrickd@darden.virginia.edu
+1-434-964-8724