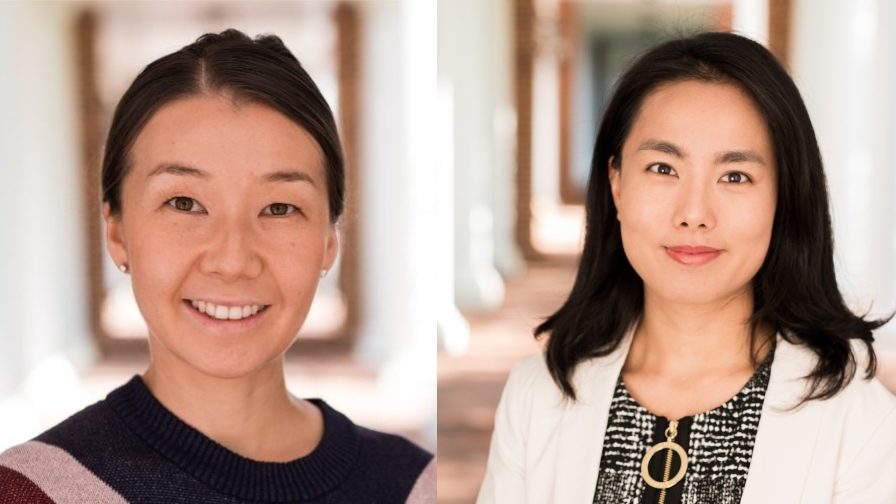 UVA Darden Launches Virtual VentureLab Summer Incubator
By Derry Wade
Responding to the challenges of the coronavirus pandemic, the University of Virginia Darden School of Business has launched its VentureLab summer incubator as a fully online program. Following a highly competitive selection process this spring, VentureLab welcomes 16 of the best new venture teams from across the University. Members of the cohort, which include startups founded by current UVA students and recent alumni, are developing a wide range of products and services, including remote solar panels, an upcycling system for plastic foams like Styrofoam, on-demand craft coffee and many other innovative ideas.
VentureLab ⁠— first established by Darden's Batten Institute more than 20 years ago and previously known as the i.Lab Incubator — has shifted to an entirely virtual curriculum and coaching this year. This new approach features a robust slate of instruction via video calls and online webinars with Darden faculty, including Professors Raul Chao, Damon DeVito, Yael Grushka-Cockayne, Saras Sarasvathy and June West, along with industry experts, such as Doug Lebda (EMBA '14), founder and CEO of Lending Tree. In addition, all speaker and workshop sessions will be freely available to current Darden students and alumni in order to complement their opportunities for lifelong learning.
Participants in the immersive, 10-week program receive an initial $2,500 award, with the opportunity for all participants to apply for up to an additional $5,000 in supplemental award funds. Darden students are also eligible for up to an additional $5,000 living stipend. Following the program, any participant may be considered for the Kathryne Carr Award for Entrepreneurial Excellence and potential investment from the University of Virginia Licensing & Ventures Group Seed Fund.
The signature feature of VentureLab is intensive mentorship for founders and founding teams, provided by experienced entrepreneurs and industry professionals from Darden's Venture Mentors and Advisors Program (vMAP). With more than 100 mentors and advisors, vMAP provides individualized advice to each founding team in VentureLab. Founding teams also participate in networking opportunities and receive pro bono legal advice.
The incubator's core curriculum draws extensively from the work of Darden Professor Saras Sarasvathy on effectuation, a logic of thinking used by expert entrepreneurs. This framework relies on principles gleaned from studying the habits of successful entrepreneurs, such as working within existing resources and co-creating solutions with others. One key principle of effectuation taught in the program is the "effectual ask," intended to encourage founders to engage with the wider community.
"This year's program continues to build on effectual principles," said Jason Brewster, director of VentureLab. "When we initially considered how to run the incubator entirely remotely, the task seemed daunting. However, as we built the online program, we discovered it has the potential to greatly expand our capabilities. By more readily collaborating with our partners, such as the dynamic Darden alumni network, we can now support UVA entrepreneurs developing new ventures worldwide."
Since Darden initially introduced the startup incubator in 2000, the program has allocated over $1.5 million in grant funding to more than 300 companies, supporting nearly 450 founders.
For more information about the program, contact Mary Andrews.
Continue reading to learn more about each team in the 2020 VentureLab cohort.
2020 VentureLab Startups
Arbitrage, founded by Jasmanet Chahal (Col '21), Mihir Tandon (Col '21), Sai Samayamanthula (Col '20), Aditya Sorot (Col '21) and Pramod Grama (Col '21), aims to become a sustainable fashion brand and the premier destination for college students to buy their clothing. artofarbitrage.net
DoubleThink News, founded by Jeffrey Tan (Engr '20; M.Engr '23), Hao Liu (Engr '20) and Johnny Wong (Engr '21), is a platform for today's news readers to discover and identify different viewpoints about trending news topics. doublethinks.com
PERC, founded by Alan Fischer (MBA '20), is building the South's leading craft coffee brand focusing on community-oriented cafés and empowering wholesale relationships. perccoffee.com
Piaz, founded by Saule Kassengaliyeva (MBA '20), offers flavor-packed dumplings inspired by recipes of female refugees and immigrants who want to share their heritage with eaters across the United States. piazfoods.com
Pick-Me-Up, founded by Sasha Duckworth (Col '21), Emily Smith and Kurien Thomas (Batten '21), is a mental health first-aid kit that equips stressed people with wellness items and mindfulness exercises. getpickmeup.weebly.com
Q-Rayt, founded by Srikar Gullapalli (MBA '20), enables universities to build digital lifelong learning communities around their knowledge assets, with Reddit-like social engagement.
Qwerty, founded by Devansh Agarwal (Col '20) and Nikhil Saraf, is a platform where students can connect, request and share lecture notes directly with their peers in the same class. qwertynotes.com
RevArt, founded by Patti Pan (MBA '20), Vivian Song, Michael Song (MBA '20), Jiacheng Li (Class of 2021) and Wen Zhang (Class of 2021), is a professional art resource service platform connecting commercial brands or business owners with artists and art IPs. revart.co
Rise Energy Systems, founded by Matthew Miller (Engr '21), creates ground-based, remotely-deployed solar panels that allow energy to be generated in underutilized areas such as driveways and parking lots. www.riseenergysystems.com
SergoMED, founded by Kevin Chang (Engr '20), Vincent Sciortino (Engr '20) and Vikram Seshadri (Engr '20), is developing an auxiliary medical device to mitigate musculoskeletal overuse injuries associated with operating endoscopes during colonoscopy.
ShadowDoc, founded by UVA Health medical resident Nitin Tiwari and Benjamin Tran (Med '20), connects high school and college students with medical professionals to arrange shadowing experiences in a variety of specialties.
Shelf Life, founded by Jack Hermann (Engr '21), Anisha Sharma (Engr '21) and Andrew Wheatley (Engr '21), is developing two vacuum drawers that can replace standard refrigerator shelf drawers to drastically increase the shelf life of your produce.
TACK, founded by Stephen Joy (MBA '20) and Alexander Spencer (MBA '20), simplifies money transfers where we need it most. It provides a digital platform for traditionally cash transactions like tips and donations.
Transfoam, founded by Alec Brewer (Engr '21), Simonne Guenette (Col '22) and Kobe Rogers (Col '21), tackles multiple ends of the plastic problem by upcycling waste styrene to produce PHBs.
VisitAble, founded by Joe Jamison (Col '19), increases disability etiquette, helps businesses become mobility-friendly and offers a database for mobility-related information. www.visitable.org
Worm Works, founded by George Ardura (Engr '23) and Taylor Kamhong (Col '21), is a large-scale vermicomposting operation that utilizes biodegradable waste to synthesize high-quality fertilizer.
About the University of Virginia Darden School of Business
The University of Virginia Darden School of Business prepares responsible global leaders through unparalleled transformational learning experiences. Darden's graduate degree programs (MBA, MSBA and Ph.D.) and Executive Education & Lifelong Learning programs offered by the Darden School Foundation set the stage for a lifetime of career advancement and impact. Darden's top-ranked faculty, renowned for teaching excellence, inspires and shapes modern business leadership worldwide through research, thought leadership and business publishing. Darden has Grounds in Charlottesville, Virginia, and the Washington, D.C., area and a global community that includes 18,000 alumni in 90 countries. Darden was established in 1955 at the University of Virginia, a top public university founded by Thomas Jefferson in 1819 in Charlottesville, Virginia.
Press Contact
David Hendrick
Associate Director, Editorial & Media Relations
Darden School of Business
University of Virginia
Hendrickd@darden.virginia.edu
+1-434-964-8724