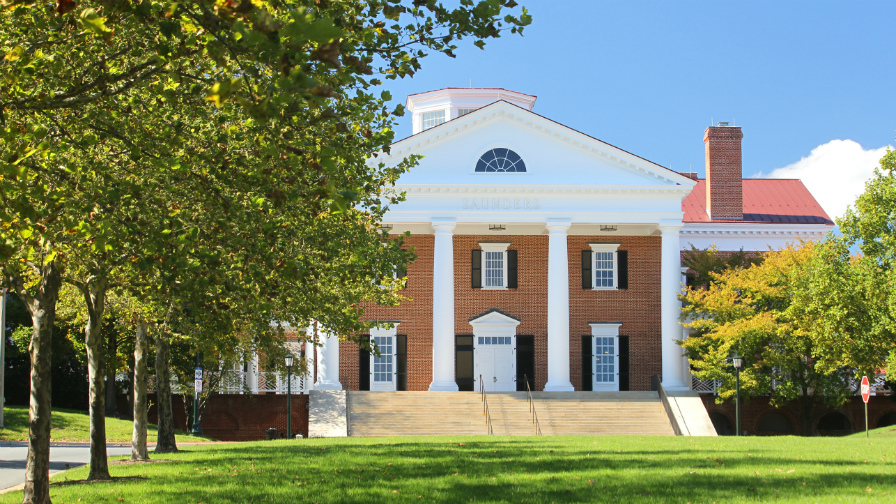 How the Annual Fund Is Enabling Darden's Return-to-School Plans Amid Coronavirus
By Jay Hodgkins
Since the University of Virginia announced sweeping operational updates in response to the spread of the novel coronavirus, the Darden School of Business — like most of its peer schools and organizations around the world — had to pivot its operations, with health and safety as the top priorities.
The School and its faculty successfully brought all spring semester classes fully online for more than 900 students in less than two weeks, and Darden staff continued to advance new and existing priorities after leaving Grounds in mid-March to telecommute from home.
The quick action, countless innovations and nimble response that enabled Darden to accomplish these feats was possible thanks to access to immediate resources from the Darden Annual Fund.
In this Q&A, Dean Scott Beardsley explains how the Darden Annual Fund is powering the School's ongoing response to an environment upended by the coronavirus. He describes how gifts designated to the annual fund's Area of Greatest Need are crucial to ensure Darden successfully navigates the challenges ahead.
What new investments has Darden made to deliver all courses online and adjust its operations in response to the coronavirus pandemic?
We were uniquely positioned to move classes to online delivery, since Darden has been teaching part of its Executive MBA online for more than a decade. However, we had to make significant investments to make all classes virtual.
Led by the incredible effort of our instructional design and distance learning teams, we quickly took several actions that were necessary to deliver an online classroom environment that met our mission-driven standard of unparalleled transformational learning experiences. Some of those investments included:
New technology and increased staffing to support the virtual classroom and move all operations online
Updated Zoom conference rooms to enable greater collaboration
Wacom and Flip2 boards, enabling professors to project what would usually be written on a chalkboard and to save those class notes to share with students afterward
Equipment and software to improve the quality of audio during virtual classes on Zoom
iPads and Apple Pencils for professors teaching Q4 classes who needed a writing surface
We also invested in student resources to support our students in an incredibly challenging time that has created financial hardships for some. For example, Darden provided financial assistance for students who were unable to recover expenses from canceled spring Darden Worldwide Courses. The annual fund provided an immediate source of relief for students who were struggling.
What additional investments will the School need to make?
For every mean that is within our control, we must not allow the coronavirus to make Darden any less accessible to current and future students.
We will continue to provide financial support and minimize hardship for students experiencing unexpected living and travel expenses. Darden will also need to increase financial aid and expand scholarship opportunities to meet the increasing pressure and competitive needs for the Class of 2022 and to ensure accessibility for all students regardless of their ability to pay.
In the virtual classroom, there is more we can do to remain at the cutting edge of digital delivery, which is now a significant competitive advantage for Darden thanks to investments made years ago. In the near term, we will cover technology costs associated with Darden's transition to online delivery of all courses and virtual operations for the remainder of the academic year.
Our faculty has also seen unprecedented disruptions to its research, and we must invest in innovative ways to support this critical thought leadership at a time when business and society need their ideas.
At the strategic level, we must ensure the continuity of Darden's mission-driven operations and delivery of the world's best educational experience.
Could the coronavirus pandemic fundamentally change the delivery of graduate business education, and how will Darden prepare for the future?
The coronavirus will have a permanent impact on the delivery of higher education, though we don't know to what extent yet.
We do know that Darden's capabilities in digital delivery were a major competitive advantage during the crisis while other schools and institutions struggled to adapt and face what could be an existential crisis. Darden must maintain its competitive advantage in digital delivery and build its capacity to prepare for potential long-lasting impacts on consumer preferences, travel and migration policies, and enhanced expectations for the quality of digital learning.
Why is the Darden Annual Fund so critical to the School in the next six to 12 months?
Supporting the Darden Annual Fund is the best way to help Darden navigate the unprecedented challenges presented by the coronavirus pandemic. Every gift to the annual fund will make a difference. Gifts designated to the annual fund's Area of Greatest Need will support Darden's ability to deliver all of the additional investments I discussed previously.
Providing financial support for students facing hardship, covering new technology costs related to virtual operations and classes, increasing financial aid and expanding scholarships, and ensuring the continuity of operations to deliver on our mission are now table stakes for a top business school in this new environment.
Through support for the Area of Greatest Need, the annual fund does more than provide table stakes for Darden. It's how Darden ups the ante on graduate business education and powers purpose-driven leaders more than ever in these uncertain times.
About the University of Virginia Darden School of Business
The University of Virginia Darden School of Business prepares responsible global leaders through unparalleled transformational learning experiences. Darden's graduate degree programs (MBA, MSBA and Ph.D.) and Executive Education & Lifelong Learning programs offered by the Darden School Foundation set the stage for a lifetime of career advancement and impact. Darden's top-ranked faculty, renowned for teaching excellence, inspires and shapes modern business leadership worldwide through research, thought leadership and business publishing. Darden has Grounds in Charlottesville, Virginia, and the Washington, D.C., area and a global community that includes 18,000 alumni in 90 countries. Darden was established in 1955 at the University of Virginia, a top public university founded by Thomas Jefferson in 1819 in Charlottesville, Virginia.
Press Contact
David Hendrick
Associate Director, Editorial & Media Relations
Darden School of Business
University of Virginia
Hendrickd@darden.virginia.edu
+1-434-964-8724