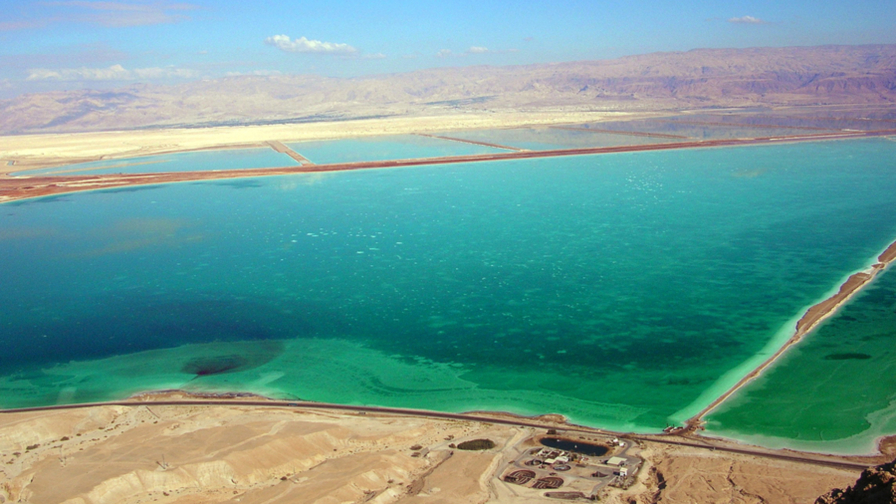 Former Israeli Ambassador Explains Role of 'Hydro-Diplomacy' in Middle East at UVA Darden
By Dave Hendrick
Cooperation over water is unlikely to be the key to diplomatic breakthroughs, but it can play a critical role in long-term cooperation.
Delivering a keynote address at the University of Virginia Darden School of Business in the sixth annual edition of the World Water Events organized by UVA's Global Water Initiative, Ram Aviram, the former Israeli ambassador to Greece and chief of staff for former President Shimon Peres, detailed the efforts to negotiate water rights in the politically tumultuous Jordan River Basin. Aviram's talk was the first in a series of UVA World Water Events scheduled to continue through March and April.
The Jordan River Basin, which includes areas of Israel, the Palestinian territories, Lebanon, Syria and Jordan, has diminished dramatically in modern times, as upstream dams and canals have slowed the once mighty Jordan River into a dramatically weakened version of its former self.
In an arid climate in the midst of a prolonged, unprecedented drought, the resource remains vital, however, and looms large in political agreements and disputes among the region's actors.
"Without water, you can do nothing," said Aviram, who served as director of Israel's Multilateral Water Negotiation Team for five years.
The former ambassador, now a lead consultant for the BIT Consultancy — or "the house of hydro-diplomacy," as it bills itself — divided the state of hydro-political actions in the region into four distinct periods:
1948–67 — When self-interest reigned and "everyone was busy figuring out how to use as much water as possible," and ending with The Six-Day War of 1967, when Israel asserted control over the Jordan River.
1967–94 — A period of ad hoc, gradual cooperation.
1994–05 — A period of formal coordination, with multilateral and bilateral agreements. The period included a unified Middle East pavilion at the 2000 World Water Forum, a message Aviram described as: "Yes, we have a problem, and we are sharing it between us."
2005–present — A period marked by violent conflict between Israel, Lebanon, Syria and the Palestinian territories, and the significant changes brought by desalination plants.
Aviram emphasized how water and innovations in the water space can play a strategic role in diplomacy.
For instance, with desalination now providing 70 percent of Israeli domestic needs, the "pie" of available water has increased dramatically, Aviram said, enabling Israel and Jordan to partner on the Red Sea-Dead Sea, project, for instance. The ambitious and complex project aims to stem the dramatic shrinkage of the Dead Sea by replenishing salt water while pumping potable water to areas in Israel, Jordan and the Palestinian territories.
"It's changed everything in many, many ways," Aviram said of desalination.
Despite its necessity to life, water remains "low politics," Aviram said, frequently taking a back seat to issues deemed to be of greater diplomatic and strategic importance. Water cooperation is possible between Israel and Jordan because there is a peace agreement between the countries. Still, when broader diplomatic frameworks are in place, the former ambassador said cross-border interactions based on "environmental peace building principles and smart hydro-diplomacy" could relieve water scarcity in deficient regions.
Led by Darden Professor Peter Debaere, UVA's Global Water Initiative is an interdisciplinary effort involving Schools across UVA with a focus on innovative solutions and creative research for one of the world's most pressing issues.
About the University of Virginia Darden School of Business
The University of Virginia Darden School of Business prepares responsible global leaders through unparalleled transformational learning experiences. Darden's graduate degree programs (MBA, MSBA and Ph.D.) and Executive Education & Lifelong Learning programs offered by the Darden School Foundation set the stage for a lifetime of career advancement and impact. Darden's top-ranked faculty, renowned for teaching excellence, inspires and shapes modern business leadership worldwide through research, thought leadership and business publishing. Darden has Grounds in Charlottesville, Virginia, and the Washington, D.C., area and a global community that includes 18,000 alumni in 90 countries. Darden was established in 1955 at the University of Virginia, a top public university founded by Thomas Jefferson in 1819 in Charlottesville, Virginia.
Press Contact
David Hendrick
Associate Director, Editorial & Media Relations
Darden School of Business
University of Virginia
Hendrickd@darden.virginia.edu
+1-434-964-8724