What's Your Favorite Ad of All-Time? We Asked UVA Darden, McIntire Professors for Theirs
By Andrew Ramspacher
Tapping into the creative minds at the University of Virginia Darden School of Business and the McIntire School of Commerce, UVA Today recently surveyed a sampling of professors to put their spin on an entertaining Twitter thread that went viral earlier this month.
Entrepreneur guru Matt Gray on 9 October tweeted to his 110,000 followers a listing of his top 10 marketing ads of all-time. The post naturally received a ton of engagement.
It got us thinking: Which ads have impressed some of UVA's marketing and branding experts?
See below for a few responses.
Kim Whitler, Frank M. Sands Sr. Associate Professor of Business Administration at Darden
Areas of Expertise: Marketing strategy, marketing performance and brand management
Favorite Ad: Coca-Cola – "Little Talks"
"I was taught to react first as a consumer," Whitler said. "From a consumer perspective, I love how this ad makes me feel – it personifies pure joy. I dare you to watch this ad and not feel a little bit lighter, a little bit happier.
"From a strategic perspective, this is an 'ode' to Coke. The instruments are largely Coke bottles. The musicians visualize pure, unadulterated joy – which is a core part of the Coke brand essence.
"The essence of this video is 'joy' and that has historically been a central part of the Coke brand. I love this ad and regularly use it in class when I talk about branding. Coke is sugar water, yet, the brand stands for joy. That is the power of branding."
Favorite Current Ad: DuckDuckGo – "Watching You"
"This is an excellent example of how to enter a category with a near-monopoly market leader and effectively attack the position," Whitler said. "Many of my students have expressed concerns about tech tracking. The DuckDuckGo ad artfully and explicitly addresses this problem and solves it. Better yet, they set up the goliath Google as the 'creepy' stalker.
"The strategy is stellar for an insurgent and the execution is quite compelling. Not only does it establish the problem, it demonstrates all of the benefits of using DuckDuckGo. I would love to see the number of new users since they started airing the ad. I'm guessing it is one of the most effective ads at changing behavior this year."
James E. Burroughs, Rolls-Royce Commonwealth Eminent Professor of Commerce at McIntire
Areas of Expertise: Marketing, consumer culture, creativity and new product development, cross-cultural research, impulsive/compulsive consumption and materialism, and consumer well-being
Favorite Ad: Visa Check Card – "Tiki and Ronde Barber"
"This aired on the Super Bowl almost 20 years ago – and stars two of UVA's favorite sons," Burroughs said. "It's not only extremely funny, but actually cleverly makes the point for the value of the product.
"Of course, nobody of the current generation probably remembers what a pain it was to write a manual check anymore, but once upon a time, it was a major hassle everyone could relate to."
Luca Cian, Killgallon Ohio Art Associate Professor of Business Administration at Darden
Areas of Expertise: Consumer behavior, consumer psychology, sensory marketing, social cognition and eye-tracking, and aesthetics
Favorite Ad: Coca-Cola – "Together"
"Love this ad because it shows how powerful the Coke brand is," Cian said. "It does not need to put a copy, or a brand, or really anything else. Just from the shape (and the color) of the two hands you know what they are talking about. And they also were able to convey a sense of friendship and inclusiveness in a very subtle but powerful way – and this sense of friendship and inclusiveness is then associated to the Coke brand."
Another Favorite Ad: "Integration as a daily gesture"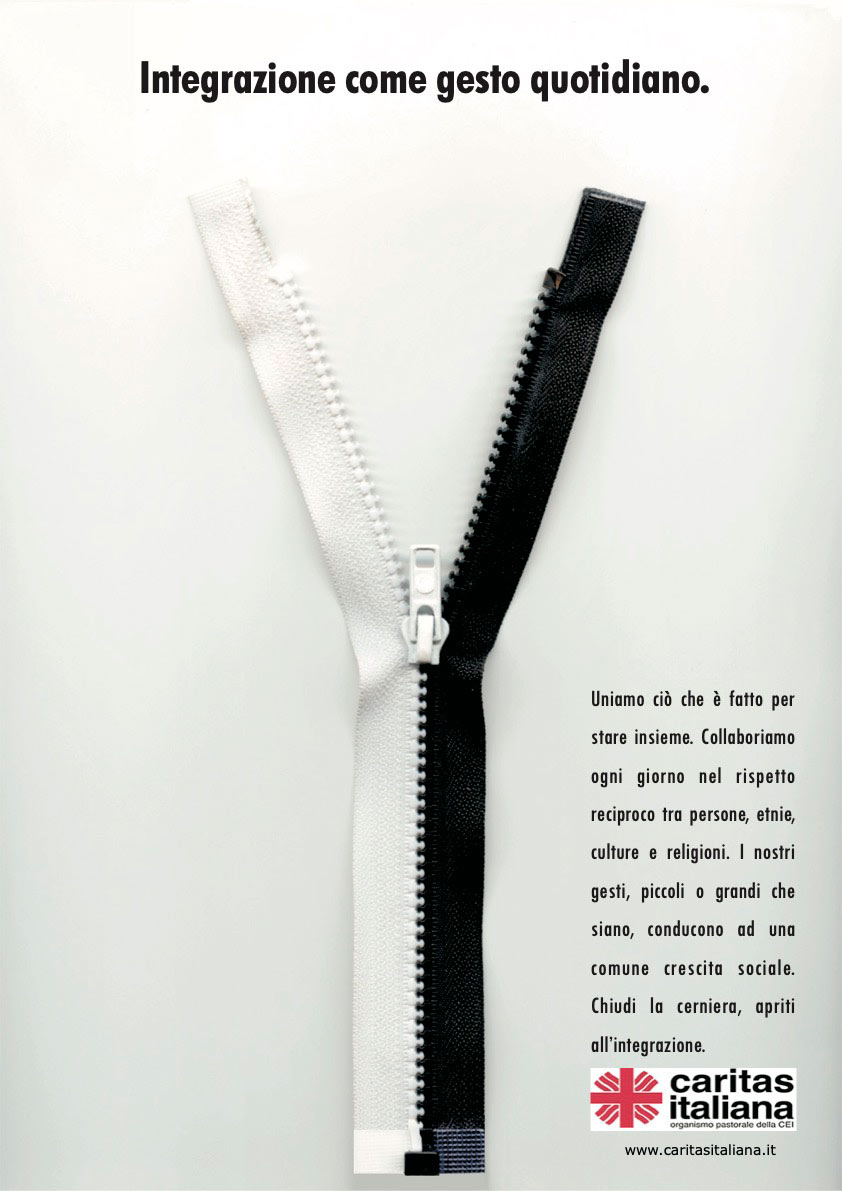 (Image contributed by Luca Cian, University of Virginia)
"This is an ad that I created with two other friends of mine in college for a European student ad competition called 'School Spot Award,'" Cian said. "It was 20 years ago. The brief we had was to help an Italian charitable organization called Caritas to promote social integration.
"The ad headline translates to 'Integration as a daily gesture.' The copy translates to 'Let's join what is made to be together. Let's collaborate every day in a reciprocal respect of people, races, cultures and religions. All our little daily actions lead to a common social growth. Close the zipper, open yourself to integration.'
"We won the competition and we flew to the Cannes Lions International Festival of Creativity, one of the most important events in advertising. Is this one of the best ads ever created? No. But you asked for my favorite ones, and this has a special place in my heart."
Cynthia Fraser, Associate Professor at McIntire
Areas of Expertise: Quantitative analysis, marketing and consumer behavior
Favorite Ad: Budweiser – "Clydesdales (2006)"
"The Budweiser commercial featuring a young Clydesdale is one of my favorites," Fraser said, "It evokes a warm, feel-good feeling, and everyone loves the Clydesdales. I doubt that it sold much beer – but IF I wanted that type of beer, I'd be more likely to choose Budweiser."
Anthony Palomba, Assistant Professor of Business Administration at Darden
Areas of Expertise: Audience analysis, media innovation and firm competition, and entertainment science
Favorite Ad: Final Fantasy VII video game – "Red XIII 3D Billboard Video"
"This advertisement excited me and made me feel very nostalgic," Palomba said. "It implicated the video game character, Red XIII, for the launch of the Final Fantasy VII Remake-Intergrade, and the 3D billboard was located in Omotesando, Tokyo.
"In this advertisement, the legendary soundtrack underscored the action that takes place. Red XIII runs away from the insidious Shinra Public Security forces. He lands in garbage, and winds up blowing a party favor blower to celebrate the release of the video game. It gave me goosebumps and reminded me how I felt while playing the original epic video game some 20 years ago. It truly, truly is a special and nostalgic piece of my life and childhood.
"Additionally, there is lore that surrounds the video game itself, as Final Fantasy VII is touted as the best Final Fantasy installation of all time. The advertisement made me want to purchase a copy of this video game.
"Advertisements that seek to integrate into our world, rather than ask us to integrate into theirs, can be perceived by some as a bit more organic, natural, or familiar. I think the 3D billboard format provides an avenue for deeper connections with audience members and provides unique and memorable experiences that cut through the amount of advertisements that we see every day."
This story originally appeared on UVA Today.
About the University of Virginia Darden School of Business
The University of Virginia Darden School of Business prepares responsible global leaders through unparalleled transformational learning experiences. Darden's graduate degree programs (MBA, MSBA and Ph.D.) and Executive Education & Lifelong Learning programs offered by the Darden School Foundation set the stage for a lifetime of career advancement and impact. Darden's top-ranked faculty, renowned for teaching excellence, inspires and shapes modern business leadership worldwide through research, thought leadership and business publishing. Darden has Grounds in Charlottesville, Virginia, and the Washington, D.C., area and a global community that includes 18,000 alumni in 90 countries. Darden was established in 1955 at the University of Virginia, a top public university founded by Thomas Jefferson in 1819 in Charlottesville, Virginia.
Press Contact
David Hendrick
Associate Director, Editorial & Media Relations
Darden School of Business
University of Virginia
Hendrickd@darden.virginia.edu
+1-434-964-8724