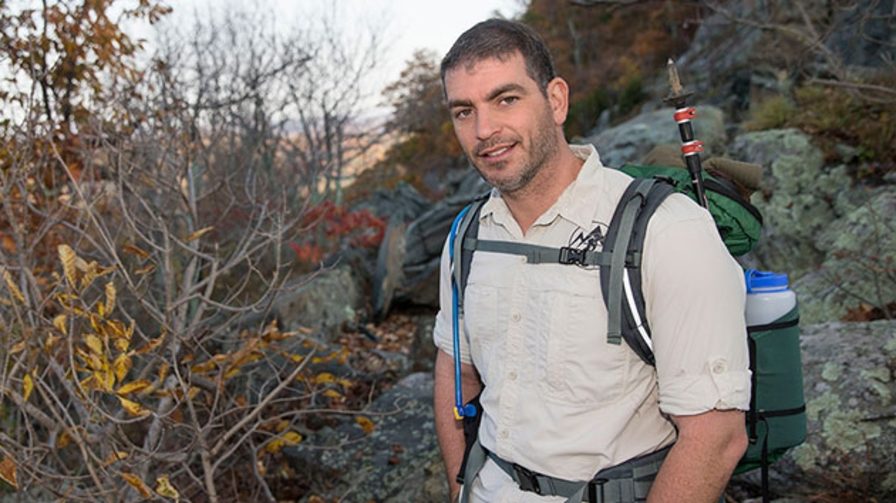 People Magazine Praises UVA Darden Grad's Efforts to Help Vets 'Walk Off the War'
By Jay Hodgkins
Darden Executive MBA alumnus Sean Gobin (EMBA '14) is making headlines in his effort to help U.S. military veterans cope with post-traumatic stress disorder and other difficulties tied to returning home from combat through his venture, Warrior Expeditions. People magazine recently featured the results Gobin and Warrior Expeditions are achieving to help vets reacclimate to life at home.
When Marine Corps veteran Sean Gobin first hiked the Appalachian Trail in 2012, his goal was to decompress from combat deployments that left him "a mental wreck."

Gobin was shocked at how his outlook changed during the months-long journey. "Here I was, enjoying a conversation, and not expecting to be shot or stabbed," he says.

By trail's end, Gobin had a new mission: "I wanted to help other warriors walk off the war like I did."

In 2013, Gobin formed a nonprofit that became Warrior Expeditions, sending 40 veterans per year on extended forays into the wild. The outings include eight trails, plus a Mississippi River kayak voyage, and a cross-country bicycle trek.

Gobin's group gives participants everything they need: equipment, clothing, supplies and a small monthly stipend. The expeditions take anywhere from three to six months, and offer readjustment to civilian life after a combat zone.
Gobin told People that nature is doing the work to help veterans recover; Warrior Expeditions is simply helping them get in touch with its healing power.
Gobin credits the trails: "The real therapy happens out in nature."

Now he's shepherding the 2019 expeditions, and planning for more. He takes the work seriously.

"It saved my life," Gobin says. "It's my moral obligation to help."
Read the full story on People. 
About the University of Virginia Darden School of Business
The University of Virginia Darden School of Business prepares responsible global leaders through unparalleled transformational learning experiences. Darden's graduate degree programs (MBA, MSBA and Ph.D.) and Executive Education & Lifelong Learning programs offered by the Darden School Foundation set the stage for a lifetime of career advancement and impact. Darden's top-ranked faculty, renowned for teaching excellence, inspires and shapes modern business leadership worldwide through research, thought leadership and business publishing. Darden has Grounds in Charlottesville, Virginia, and the Washington, D.C., area and a global community that includes 18,000 alumni in 90 countries. Darden was established in 1955 at the University of Virginia, a top public university founded by Thomas Jefferson in 1819 in Charlottesville, Virginia.
Press Contact
David Hendrick
Associate Director, Editorial & Media Relations
Darden School of Business
University of Virginia
Hendrickd@darden.virginia.edu
+1-434-964-8724